Healthy eating out – tips on where to eat away from home and how to shop
Eating out has never been more convenient. You're either dashing to the local patisserie on your lunch break, popping out for a meal with friends at the weekend, or ordering a take-away on a Friday night or even in the middle of the week. Unfortunately for some, this means that you're more tempted than ever to eat the foods you know aren't necessarily good for you. Not only that, but as you're not cooking the foods yourself, you have less idea of what you're actually eating. Not only are the Igennus HQ staff health orientated, when we have a get together, we regularly have diets such as paleo or low FODMAPs being followed, as well as any intolerances to gluten, wheat and/or dairy which have to be accounted for, and the occasional preference for a vegan meal. Oh the joys for the waiter/waitress who pulled the short straw with our table! However, we've had tons of experience at dealing with these situations, leaving us very well equipped, so we thought it would be useful to impart some of this wisdom, with the hope that it will also help you.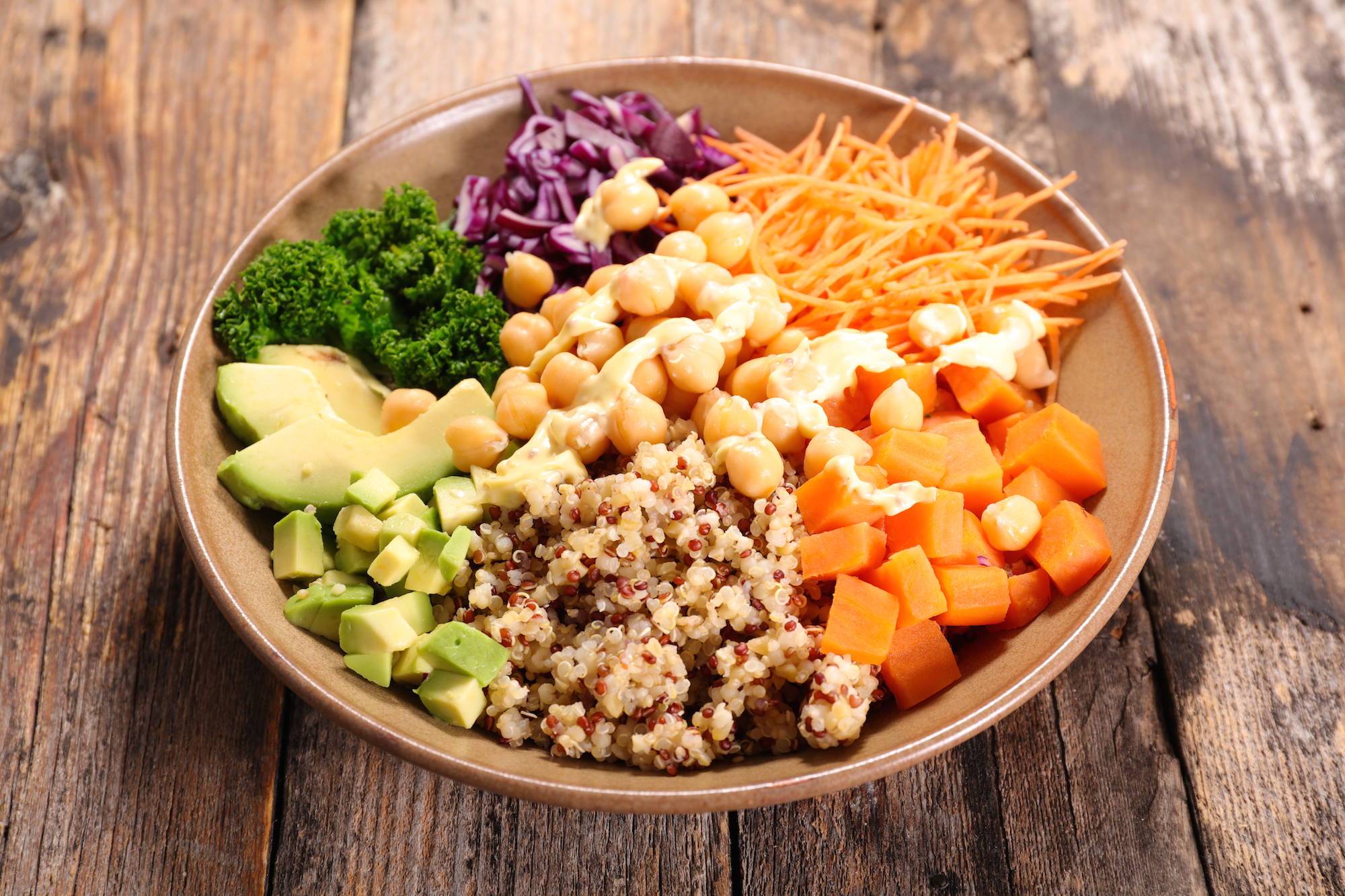 This age old saying is definitely your key to success because like anything, if you're not prepared, you're not giving yourself the opportunity to succeed. This applies to all situations. If you buy your lunch from the local supermarket, write a list of what you need before you go, to avoid being tempted by the generously sized aisles selling crisps, sweets and chocolate.
If your weakness is mid-afternoon when you're having an energy lull, firstly, ensure you're eating an adequate amount of protein as this will help balance blood sugar levels to avoid the blood sugar dips that leave you reaching for the biscuit tin (you can read more about protein and work out your requirements here). Secondly, having healthy snacks available will reduce the temptation to reach for the sweet jar. If you can, prepare some healthy foods, or buy them from the local supermarket to prepare you for the week ahead. Healthy snacks include a boiled egg (which can be boiled in bulk and stored in the fridge – mark them to avoid messy accidents); carrots and hummus; your favourite nut butter with celery sticks; fruit such as a banana or a handful of berries; a couple of oat biscuits with some cottage cheese; or prepare a trail mix with a mixture of almonds, walnuts, hazelnuts, cashews, brazil nuts, dried coconut chips, sunflower and pumpkin seeds, with a handful providing one serving.

Healthy lunches that can be purchased from local supermarkets include a prepared salad with some cooked chicken and/or mixed beans with added hummus; a tin of Amy's Kitchen vegan and gluten free chili served over cauliflower rice; a prepared meatballs dish (usually available with the tapas selections) served over courgetti; or some pulled pork served with a portion of prepared wholegrain rice and salad, creating your very own burrito bowl. Some branded ready meals are also great for something quick and warming; Pure offer wonderful gluten and dairy free meals; Kirsty's, delicious meals which were originally prepared for Kirsty's son as a way to cater for his gluten and dairy intolerance whilst still providing a nutritious meal, most of which contain a decent amount of protein with low levels of sugar and salt; Amy's Kitchen provides a variety of organic soups; City Kitchen have some wonderful options including the Malaysian Coconut Beef Curry, Skinny Thai Coconut Chicken and the Skinny Teriyaki Chicken Noodles; Bol also have some delicious, vegan "Super soups" – packed full of vegetables, they contain 3 of your 5-a-day, and for those who prefer meat with their meals, you can simply add some prawns or chicken to these to top up the protein content.

Tips: When buying ready meals, always check the labels; if you haven't heard of at least three ingredients, put it down (unless one of those is quinoa). If the sugar content is more than 5% of 100grams, put it down. If the salt content is more than 1.5grams per serving, put it down. Try and aim for a protein intake of around a quarter of your daily recommended intake.

Office canteens are not always the healthiest place to eat, but a few food swaps can make a world of difference. For breakfast, rather than a bacon or sausage sandwich, consider porridge (where possible) with a banana, as this will provide a good source of fibre to provide that full feeling for longer, whilst also slowly releasing energy. For lunch, instead of a side of chips, aim for a couple of servings of vegetables or a side salad to further increase your intake of fibre, as well as vitamins and minerals essential for health. Opt for a cooked meal rather than a sandwich, which usually lacks healthy filling and therefore doesn't provide much satisfaction or nutrition. If the cooked meals in your canteen aren't that appealing, consider a jacket potato with chili served with a side salad, and instead of reaching for the sausage rolls to snack on, opt for the soup of the day, which should provide you with a steady release of energy from vegetables rather than the refined flour found in pastries. Finally, instead of indulging in several coffees each day, consider making every other drink a herbal tea. Not only will this save you money (especially if you have your own teabags), but it may also reduce your intake of more refined sugars, especially if you sweeten your coffee or opt for a coffee with added syrup flavouring or cream.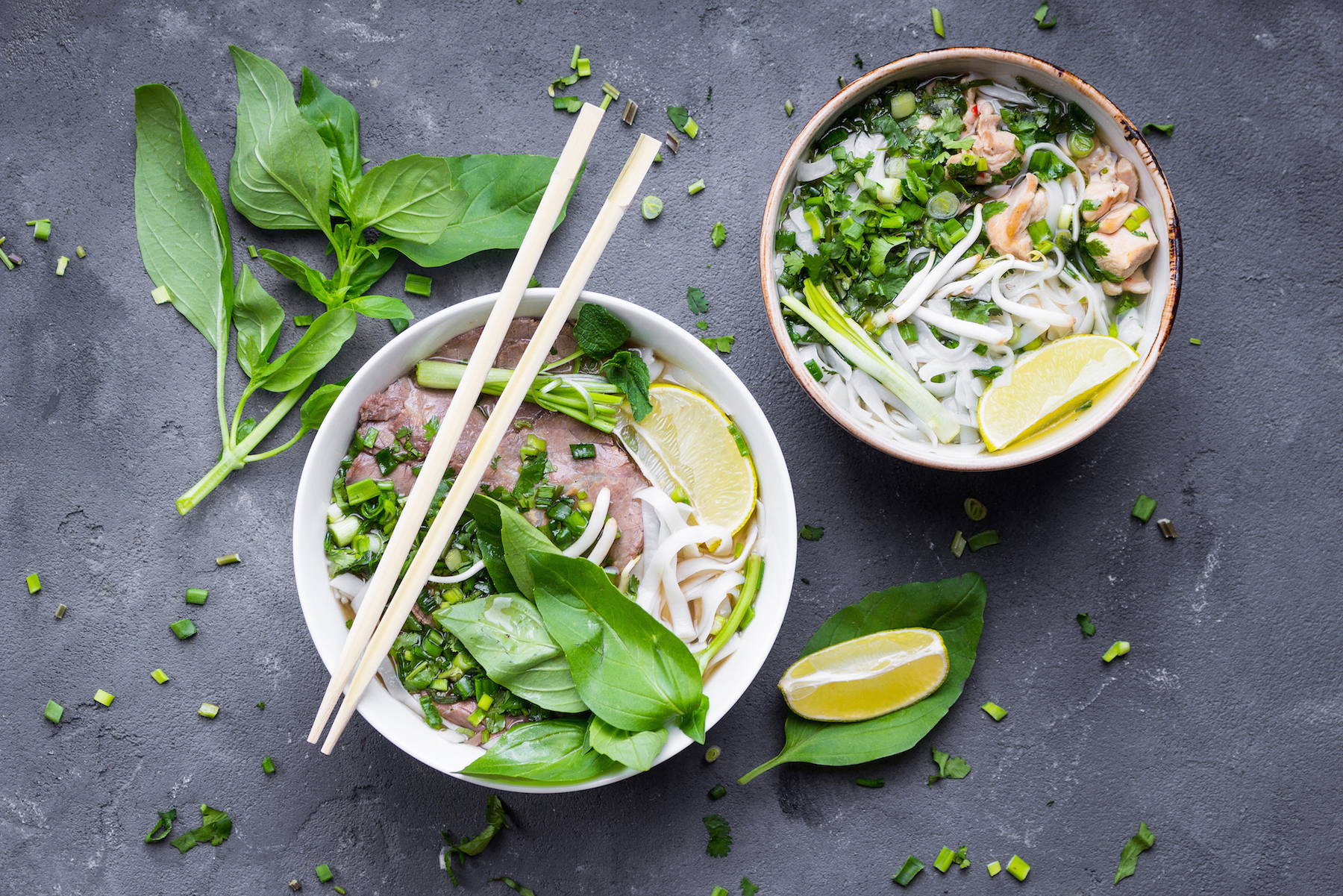 If you usually purchase your lunch on the go, our favourite convenient eating places include Pret a Manger, Leon (although this is restricted to London and bigger English cities), Itsu (or any Japanese sushi restaurant), Starbucks, Subway, any Mexican street food eateries, any type of "meal-prep" and "high protein" restaurants, Las Iguanas, Nando's, Pizza Express and Five guys. All of these offer full nutritional information on their website and make it clear whether a dish is free from some of the main allergens, and whether they are suitable for vegans/vegetarians. Whilst there are many other options, these are the ones we know you are more likely to find in your local town.
Pret is at the top of our list with their beautiful array of natural food and organic coffee. They offer multiple gluten and dairy free options as well as lots of vegan-friendly foods. We love all of their salad options, especially the tuna niçoise, crayfish and avocado salad, and the chef's Italian chicken salad. Our pick of soups include the butternut squash dhansak, the chicken, broccoli and brown rice soup, and pork and lentil ragu. Some of the soups are a little low on the protein count, however, making the egg and avocado/spinach pot the perfect accompaniment. For a quick snack, consider their fruit pots as well as their delicious crisped kale or tamari pumpkin seeds. We also recommend their cold-pressed juices and shots to top up your nutrient intake.
Leon's naturally fast food provides all the information you need regarding their ingredients, allergens and even the glycaemic load and index of dishes. Our picks include the naked Korean chicken burger, or the original superfood salad with an added chargrilled chicken pot, both of which are high in protein and greens to provide lots of energy whilst you're on the go. Wash them down with a kombucha brew, or a kefir smoothie, both of which will feed the good bacteria in your gut, supporting digestion and the immune system.
Itsu, and many other sushi chains, offer great options for lunches on the go, containing foods rich in omega-3 fatty acids from oily fish and seeds; good quality vegan protein from tofu and edamame beans; miso, another fermented food that will look after the health of the bacteria in your gut. Our Itsu picks include the vegan dish 'humble warrior', containing avocado, broccoli, falafel and seeds; and the poached salmon and egg. We also love their raw chocolate pie, and their small packet of crispy seaweed thins. Itsu even offer wonderful panda boxes for the children.
Tip: be aware of the salt content of some dishes on offer in sushi restaurants as many of the dishes will contain your entire recommended daily intake of sodium.

With food intolerances and dietary requirements, one of the biggest difficulties of eating away from the home is when you're asked to eat at a restaurant you're unfamiliar with. Independent restaurants are great as the food is often homemade, fresh and often consists of local produce; however, whilst some independent restaurants offer full nutritional information, many do not. Again, the advice here is to prepare. Call or email the restaurant ahead of time. If you tell them your dietary requirements and ask if they can cater for you, you will know ahead of time and can be prepared when the waiter/waitress takes your order rather than panic, ordering and eating a meal that may not be suitable.
Also, if you're unfamiliar with an area, a quick google search of 'healthy eating' plus the name of the area you are in should bring up some options, as should tripadvisor. Alternatively, happycow.net is a useful resource for finding restaurants offering vegan and vegetarian options for your area or postcode. This is also useful for non-vegetarians as many of the options will be for relatively health-conscious restaurants who also offer non-vegetarian foods. There are also appss available such as 'find me gluten free' which can be a great resource when trying to find gluten free. It's great to use on holiday.
Whilst we could write a small book on our most loved foods in each restaurant (between us, we've been to lots), our main recommendation is to check out your eating options ahead of time, have a look at the menu and nutritional information, and apply the same tips offered above for purchasing ready meals; i.e. check the protein, salt and sugar content, as well as the ingredient list to ensure there's a minimum at most of chemicals and additives included. Fortunately, people are more aware than ever of dietary requirements, making it a lot easier for the rest of us to choose a delicious and suitable meal to enjoy with our friends. Enjoy!

If you require more support, feel free to contact our approachable team of nutrition professionals who will be more than happy to support you further or point you in the right direction.

From morning sickness and fatigue for mum to brain and bone development for baby.