Quick and nutritious dinners
An evening meal is often the only opportunity during the week that parents can prepare a meal for the family and have full control over what children eat. With time constraints, it can be difficult to manage the (self-imposed?) pressures of preparing a healthy meal, in a limited amount of time, that the whole family will enjoy. To help you get going, here are some of our favourite dishes which provide a well balanced meal for the whole family – and they can be prepared in half an hour!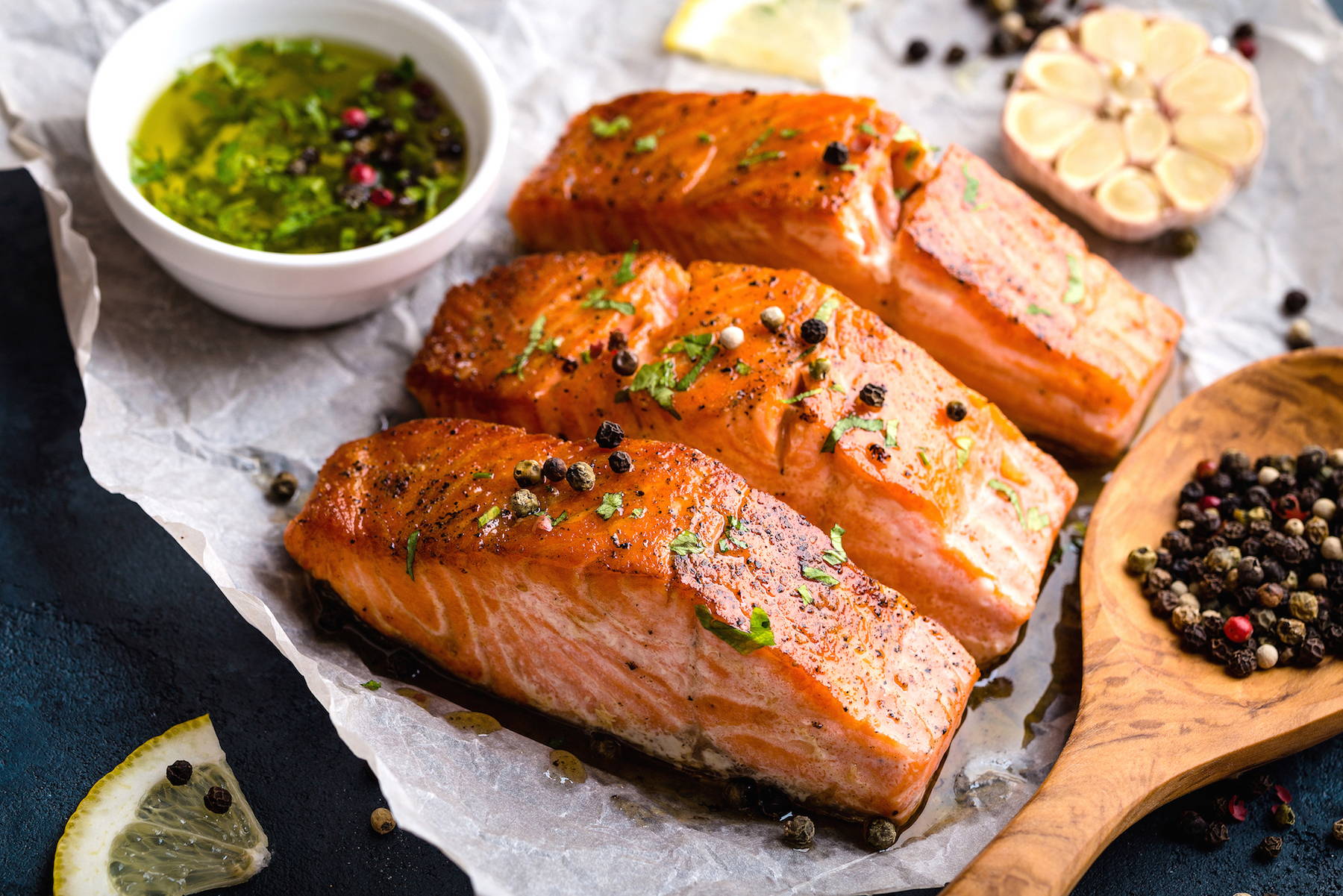 Cod with puttanesca sauce: this delicious Italian dish takes just 20 minutes to put together and can be served with a cupped handful of wholegrain pasta for a true Italian meal, or with some roasted root vegetables if you can prepare them ahead of time. View recipe >
Tip: Pick up a different vegetable at the supermarket that you wouldn't usually cook with and find a great recipe to prepare a side dish for the whole family to enjoy with their evening meal.

Fresh salmon with Thai noodle salad is perfect to fill your bowl with lots of bright green vegetables, with a sharp and fresh flavour. This will be a sure-fire hit with the family! View recipe >

Tip: We know that convenience plays a huge role in today's society so don't be afraid to cut a few corners with a shop-bought salad (organic if possible), some frozen vegetables (better for stews as boiling vegetables leaches nutrients into the water), and prepared sauces (just watch out for the sugar content and choose foods with an ingredient list you understand, i.e. no hidden nasties).

My 'go-to' mid-week meal is salmon, baked in the oven with a spoonful of pesto on top, served with sweet potato mash, green peas (cooked from frozen), and some steam-fried tenderstem broccoli, to which I quickly add some garlic for the last couple of minutes and then squeeze some fresh lemon over the top when it's cooked. Delicious and takes no more than 20 minutes.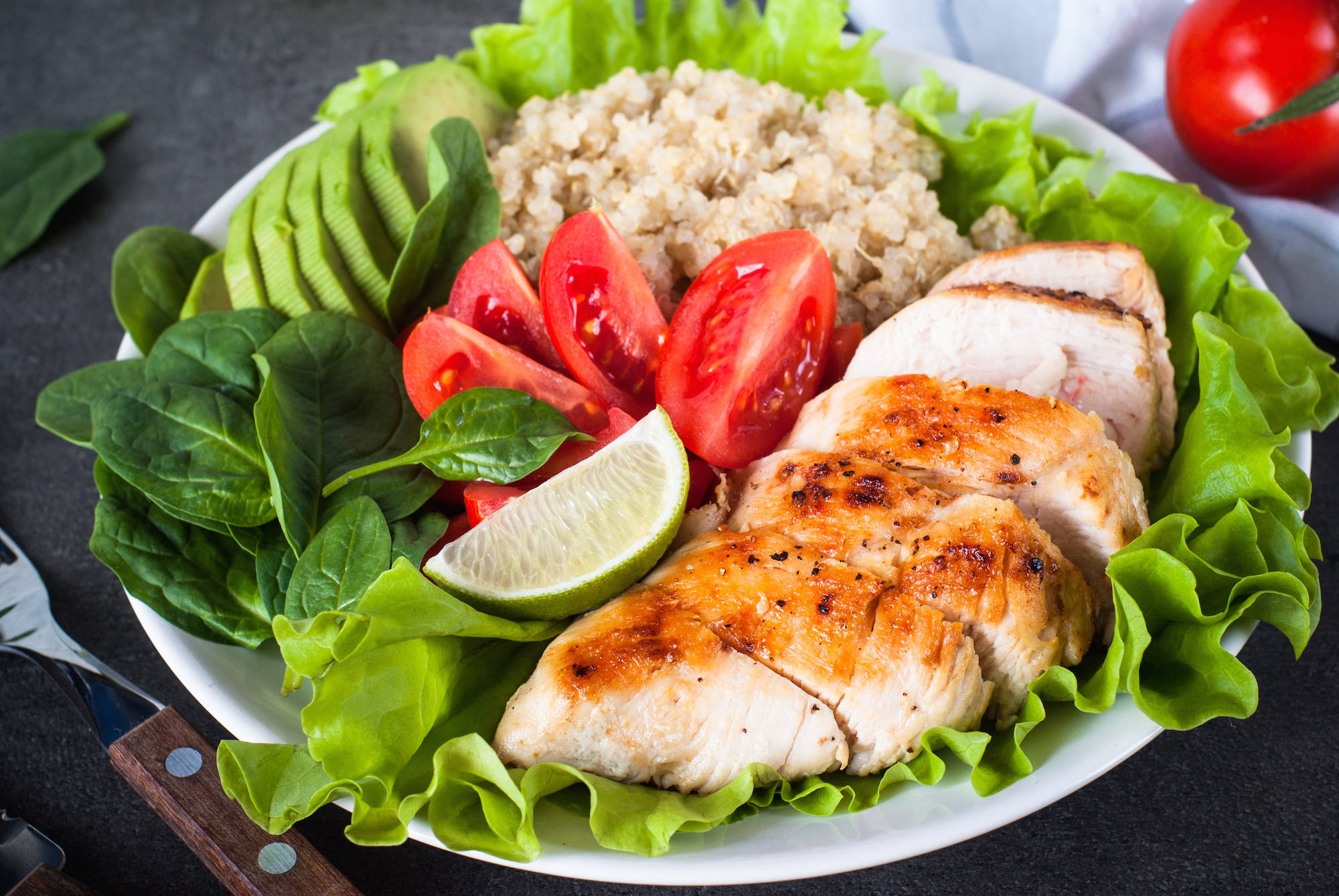 'Leftover' curry: combines protein from using chicken or turkey, with healthy fats from coconut milk and lots of added vegetables; perfect for serving with a cupped handful of brown rice or quinoa. View recipe >
Tip: Print out a rainbow fruit and vegetable chart and aim to tick off one of each colour every day.

Stir-fried chicken with broccoli and brown rice: a stir fry recipe is always a staple, you can swap the chicken for beef or prawns, add in carrots and mangetout to increase your vegetable intake, and even swap the serving of brown rice for cauliflower rice – simply place a chopped head of a cauliflower in a food processor and blitz, then transfer to a large skillet to sauté for 5-8 minutes. View recipe >

Tip: Try serving a dish of vegetables or salad with your evening meals to encourage the whole family to eat more vegetables

Chicken tacos: Arranging the fillings on separate plates so children can build their own taco is a great way of encouraging children to eat more fresh salads, as well as encouraging their interest in experimenting with different flavours and textures. View recipe >

Tip: need a super tasty side salad to serve with your meal? Try this delicious quinoa tabbouleh. View recipe >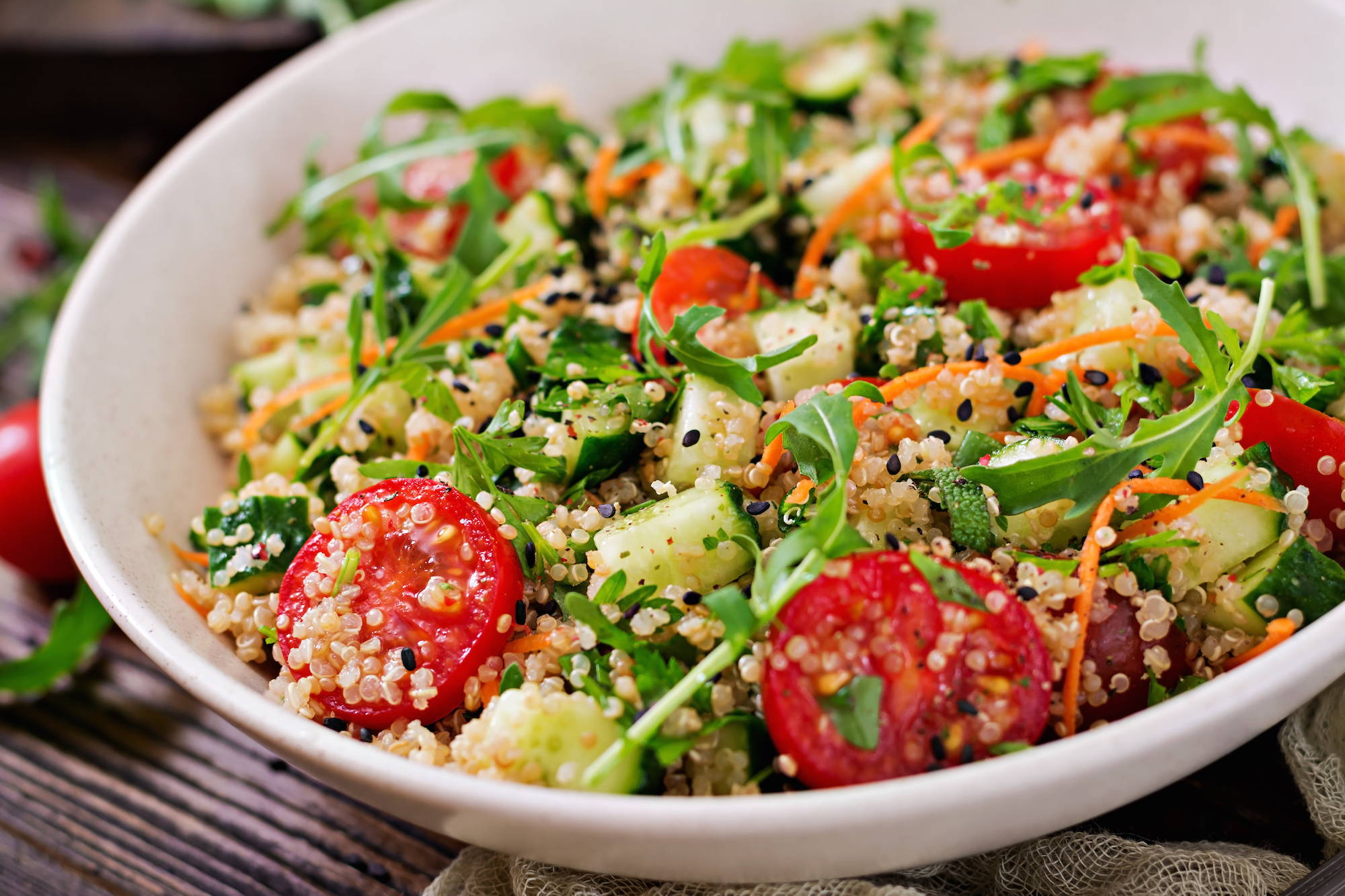 You don't need to be vegetarian to keep on reading; these meals are great to incorporate into a healthy diet for meat lovers too. Simply serve with some grilled chicken, baked fish, or why not consider a meat-free Monday/Tues/etc?
Avocado salsa quinoa salad: a healthy serve of fats, carbohydrates and protein View recipe >

Tip: want to know the healthiest oil to cook with? Coconut oil! We bake with it, fry with it and even spread it on oatcakes. Save the delicious flavour of olive oil by using it to drizzle onto salads or pasta once cooked.

Simple veggie and tofu stir fry: A great blend of vegetables and the super nutritious tofu – packed with calcium for those who don't consume dairy, and a great source of protein. View recipe >

Tip: If you are vegetarian, ensure your meals provide a good source of plant protein, as protein intake can often be lower for those following a plant-based diet. Great sources of plant protein include nuts and seeds, peas, beans, chickpeas and lentils, quinoa and non-GMO soya products.

Homemade vegetarian chilli: a warming bowl of deliciousness, this one simply needs a well stocked food cupboard and you should be good to go. Whilst it takes 40 minutes to prepare, we feel it's definitely worth the extra 10 minutes. View recipe >

Tip: make an extra few portions to either freeze for an evening when you won't have time to cook or to put into lunch boxes for the following day.
Building the foundations of a healthy meal
When creating a healthy meal for the family, it's important to obtain balance. Aim for a mix of the following:
1-2 cupped handfuls of healthy carbohydrates – starchy vegetables like squash, carrots and sweet potato, and whole grains such as oats, quinoa, wholegrain or basmati rice, wholegrain bread or pasta.
A palm-sized portion of protein – grass fed and organic meat, wild fish, eggs, milk, nuts, peas, beans, chickpeas and lentils, quinoa and soya.
1 thumb-sized amount of healthy fats – organic dairy, butter, nuts, seeds, avocado, olives, olive oil and coconut products.
Importantly, let's not forget a good portion of vegetables. Aim for a plate which contains roughly 50% vegetables which will provide you with lots of essential nutrients as well as fibre to keep your gut microbiota thriving.
BBC Good Food has a whole host of recipes that can be broken down into many areas, from quick meals, to Thai dishes, and from one-pots to salads, but beware, it's hard not to lose chunks of your day scrolling through all of their recipes. Jamie Oliver and Sunday Brunch are other great resources for delicious recipes too. For healthy options, without having to scroll through the recipes to pick them out, we recommend The Little Green Spoon and, for followers of a plant-based diet, Deliciously Ella. Both of these also have recipe books which can be purchased from Amazon to save you wrestling with teenagers to work out which ingredient you're missing whilst they're scrolling through social media.
If you require more support, feel free to contact our approachable team of nutrition professionals who will be more than happy to support you further or point you in the right direction.

Introducing Vegan Pro-Collagen protein powder    
Includes 5 tips to support family immune health
For skin, hair & nails, bones, tendons and blood vessels