Your easy guide to turn go-to meals into well-balanced dishes
It can be hard to change some long-standing eating habits in favour of a healthier lifestyle so, to help make it simpler, here are some suggestions of how to turn those go-to meals into well-balanced ones.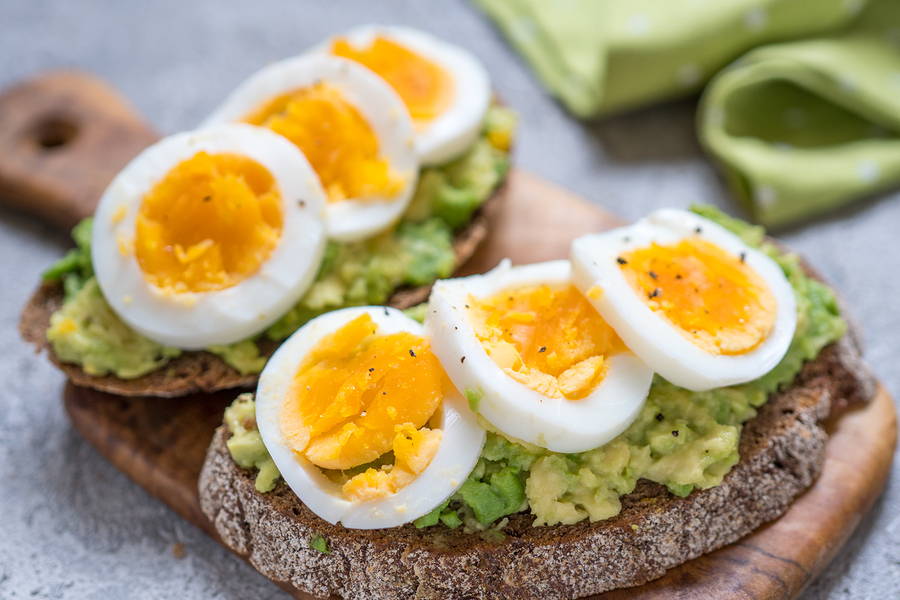 Add: Cereal is often filled with sugar, lacking protein and high in refined flours, all of which often leads to a quick burst of unsustained energy, which quickly gets you, and your family, reaching for the chocolate biscuits mid-morning. Try adding some protein in the form of a protein powder, which can be blended with your milk before being added to cereal, and topping with fresh berries and a handful of nuts.
Swap: Try switching to a serving of unsweetened porridge oats which provide slow-releasing energy and lots of fibre to help keep the gut healthy. You can make your porridge even healthier by adding a handful of your favourite berries which will provide sweetness, and a scoop of your favourite nut butter (we recommend raspberries and almond butter!).
Add: White bread is also high in refined flour and not recommended as a good-quality energy source to keep you going until lunch. If you like savoury, try spreading your toast with avocado and topping with slices of boiled egg. If you prefer sweeter toppings such as jam, try spreading your toast with nut butter and topping with your favourite berries.
Swap: Try seeded wholegrain bread which is a richer source of complex carbohydrates and therefore releases energy more slowly than white bread.
Tip: If bread often leaves you feeling bloated, try switching to rye or spelt bread which may be easier to digest.
Add: Cereal bars are convenient but often lacking in nutritional value and are loaded with sugar, even the 'healthier' versions aren't much better. Try complementing your cereal bar with a 'protein pot' containing some spinach and a couple of boiled eggs which can be purchased from most supermarkets and coffee shops. This will help to slow the release of sugar from your cereal bar and sustain your energy for longer.
Swap: If you just need something on the go, why not try overnight oats which can be prepared the evening before by placing oats in a glass jar, pouring milk (or nut milk or apple juice) over, adding your toppings of choice (nuts/seeds/nut butter/berries/grated carrot and cinnamon), and leaving to chill in the fridge – much healthier and fresher than any cereal bar.
Try: If you like to head to the local deli for your breakfast sandwich, opt for grilled bacon with the fat removed, served on one slice of wholegrain bread, with added mushrooms, rather than a standard bacon or sausage bap which is high in both refined carbohydrates and saturated fat.
Swap: Like ketchup? Why not swap for fresh slices of tomato to get you well on your way to eating your 5-a-day, and reducing your sugar intake. If you're feeling adventurous, you could even opt for avocado rather than butter used as a spread.
Swap: The famed English breakfast is also high in refined carbohydrates and saturated fat, but this can be cleaned up with just a few swaps. Instead of frying the ingredients, try grilling your meat – one slice of bacon (fat removed) and one chicken sausage. Serve with a poached egg, wilted spinach, a grilled Portobello mushroom, some roasted cherry tomatoes and a serving of homemade beans.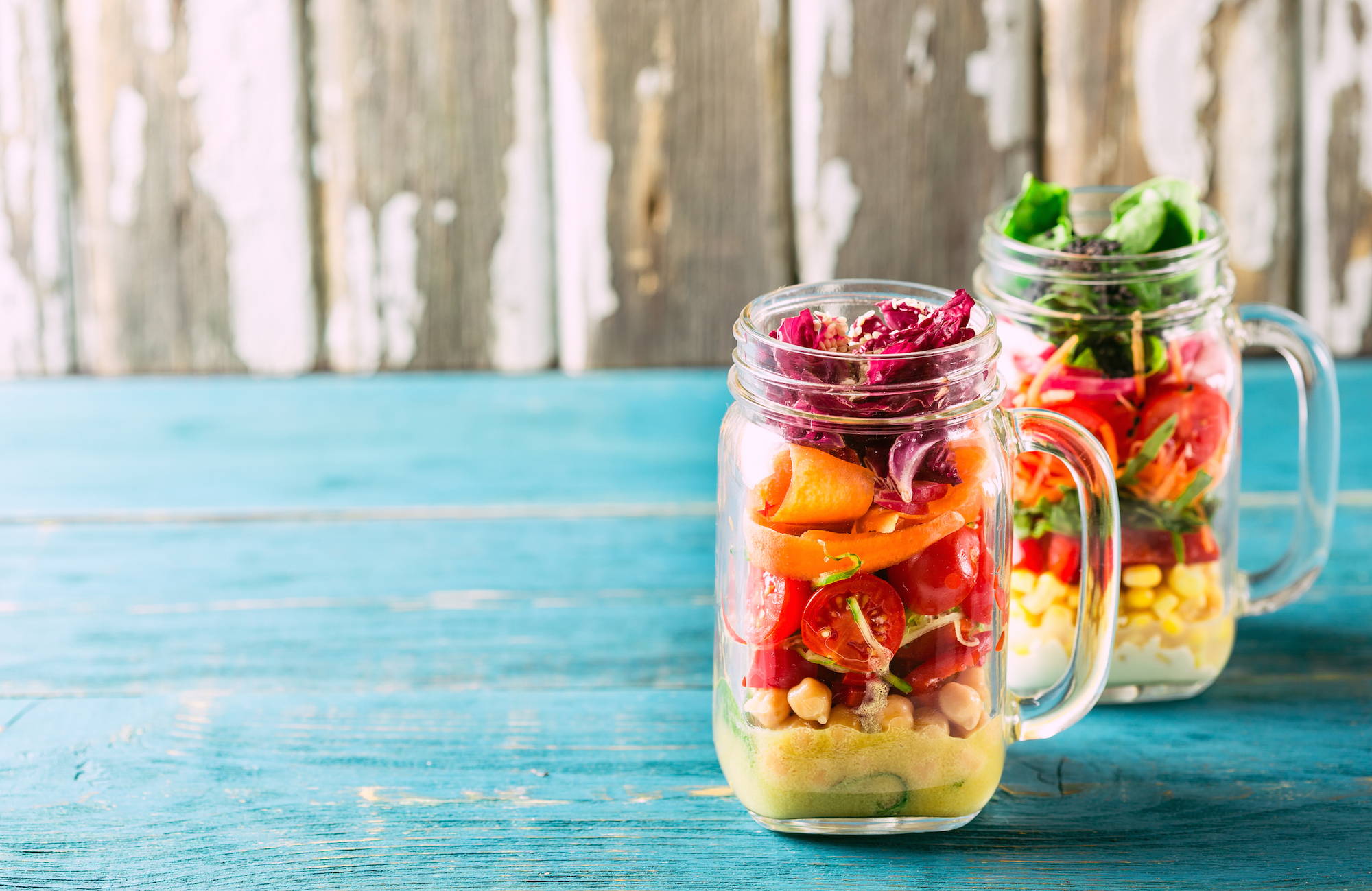 Add: Shop-bought sandwiches are often lacking in quality protein and nutrients. Instead of pairing with a packet of crisps and a bar of chocolate, increase your intake of fresh vegetables with carrot and celery sticks and a pot of hummus, or a sliced apple served with nut butter.
DIY: Sandwiches can be made on wholegrain rather than white bread to help maintain energy levels and prevent mid-afternoon cravings. You can also add a lot more filling rather than a slice of ham as usually found on pre-packaged sandwiches. Ensure you opt for a healthy source of protein such as chicken or turkey (or egg for vegetarians), add lots of salad and use a spread such as a homemade hummus (which is really cheap and easy to make, as long as you have a blender) to provide lots of good quality nourishment to your meal.
Swap and serve: Whilst there are now many great ready meal brands out there, some are still high in salt and sugar, low in vegetables and lacking in protein. Our favourite ready-meal brands include Pure, Kirsty's, Amy's Kitchen, Bol and Wicked Kitchen. You can increase the nutrient content by serving with a side salad.
Tip: Heating plastic can lead to chemicals, known as endocrine disrupters, leaching into food and playing havoc once inside the body, disrupting the healthy balance of hormones. Empty your food into a ceramic or glass bowl before heating in a microwave.

Add: Usually lacking protein, why not add your own pre-cooked prawns, chicken slices or marinated tofu, and serve with a handful of cherry tomatoes, a sliced cucumber and a pot of hummus to increase consumption of fresh foods.
Swap: Why not make your own pot noodle? All you need is a mason jar which you can layer with rice noodles, meat of choice or tofu, a spoonful of miso, grated carrot and courgette, some sliced mushrooms, and finish with a squeeze of lime, chilli, spring onion and coriander. Simply prepare the night before, take to work, add hot water, and leave to stand for 5 minutes before eating. Delicious and healthy!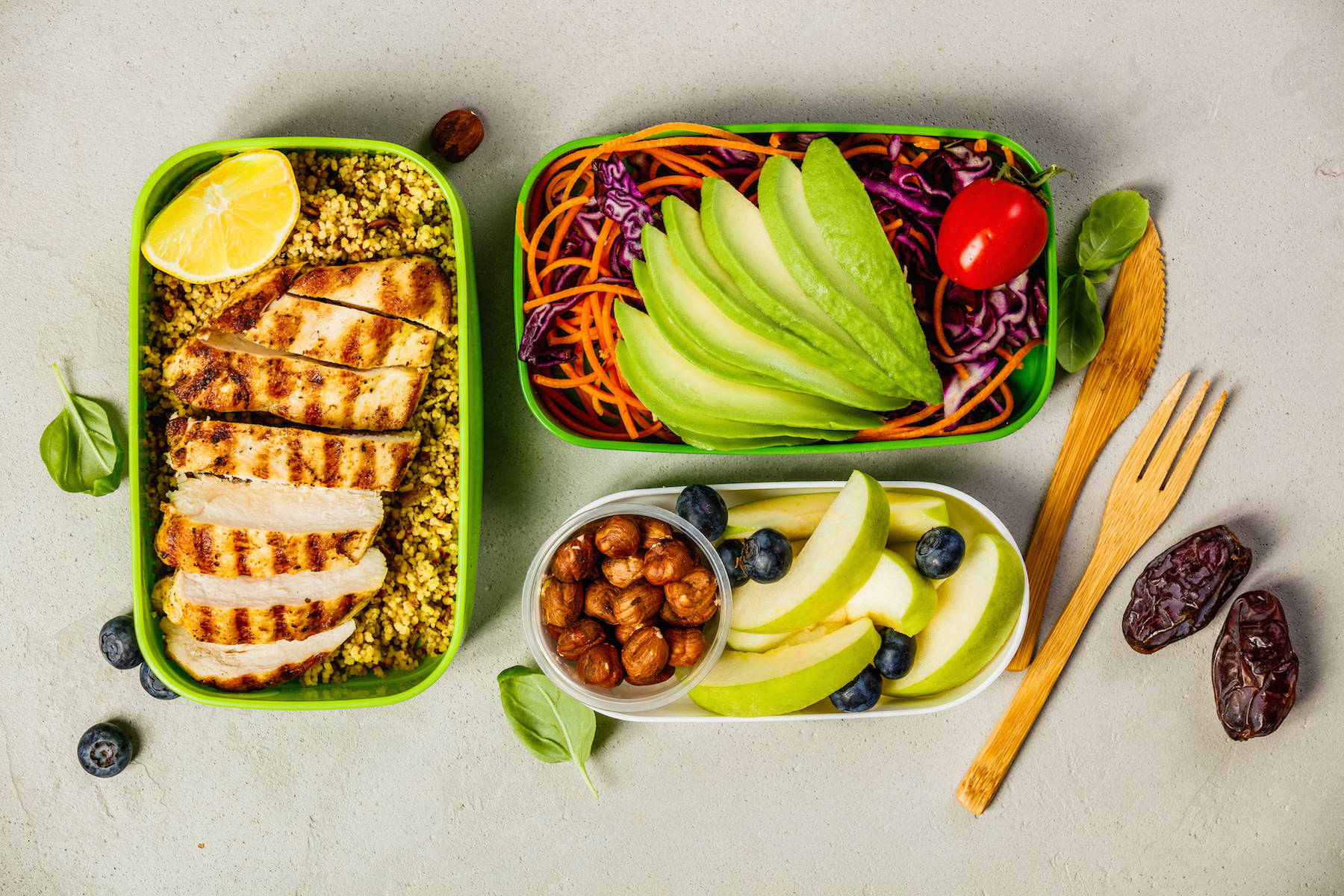 Add: Though a tasty favourite, pizza is often lacking in protein and nutrients, as well as high in refined carbs. Why not add your own toppings such as prawn and rocket, eating half your usual serving, with a side of grilled asparagus.
Swap: For a healthier version of pizza, why not make a pizza omelette? Simply top your omelette with tomato puree, your favourite ingredients and a sprinkling of cheese and grill for a few minutes until the cheese melts – simple and healthy! Another tasty option is to slice a courgette into 2cm thick circles, coat in a little coconut oil, grill for 2 minute either side, top the courgette base with tomato puree and toppings of choice and grill for a further few minutes. You can do the same with aubergine; both are great ways to increase your vegetable intake.

Add: Another meal high in refined carbohydrates and saturated fats and lacking in much nutrient content. Add lots of salad to your burger, reduce your serving of chips and serve with grilled corn on the cob, grilled Portobello mushroom, and a homemade slaw of sliced cabbage and grated carrot, dressed with fresh lemon juice, olive oil and a crushed garlic clove.
Swap: Burger buns are another culprit which can be high in refined flours; consider swapping your burger bun for a small wholegrain roll, or use Portobello mushrooms or iceberg lettuce as a healthier alternative and to provide a fresher flavour to your burger. You could also consider swapping your beef burger to a homemade turkey burger or using a grilled chicken breast, both of which are much leaner meats and will help to reduce your intake of saturated fats.

Chicken nuggets/fish fingers with chips

Add: High in carbohydrates and refined flour, and lacking in nutrient content, we recommend reducing your serving of chips and instead filling your plate with lots of vegetables and a side salad. If you're short on time, you can use frozen vegetables such as peas or a vegetable medley.
Swap: Try swapping your chicken nuggets for grilled slices of chicken breast, fish fingers for a slice of cod, and chips for baby carrots.

Reduce and add: If you're opting for a chicken or lamb curry, this dish will provide lots of protein, but many curries are often lacking in vegetables. Try reducing the serving of rice and serve with a side of vegetables. If you're making the curry yourself, consider adding some chickpeas, peas, spinach and peppers which can often complement a curry whilst increasing their nutrient content.
Add: Lacking in protein, you can quickly address this by adding a source of good quality protein such as some grilled chicken strips, cooked prawns, or even a tin of tuna. Why not also add some frozen mixed vegetables into the tomato sauce to increase the vegetable content. Reduce the serving size of pasta and serve with a side salad or a bowl of steamed broccoli, served with a squeeze of lemon juice.
Swap: Try making the pasta using spiralised courgette or butternut squash to increase vegetable intake further.
Healthy living isn't about depriving yourself of the foods you love, it's about adding in the foods your body needs in order to best serve you. Carbohydrates, proteins and fats are all important components of the diet, playing their own important roles. The foods we often reach for are generally high in refined carbohydrates, and low in complex carbohydrates, healthy fats, quality protein and fruit and vegetables. The general rule of thumb is colour – if your plate looks beige, it's more than likely falling into this category. By concentrating on eating the rainbow, you can quickly increase your intake of nutrient-dense foods which will soon replace your intake of foods lacking in these all important nutrients. Sides of salads and vegetables are an easy way to achieve this.
If you require more support, feel free to contact our approachable team of nutrition professionals who will be more than happy to support you further or point you in the right direction.